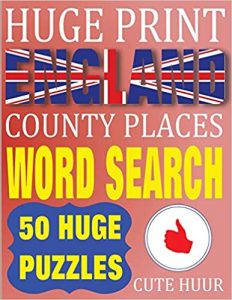 HUGE PRINT ENGLAND WORD SEARCH PUZZLES AND SOLUTIONS
All 48 English Counties are featured in addition to Scotland and Wales. 24 places per county are hidden in each puzzle.
No eye strain with this book!
This book is a great way to relax while keeping your mind active.
The huge print size makes the puzzles, word lists and solutions easy to read.
24 towns, cities and villages from every English County is included in the book. You could learn something new about the choices of place names that certain states have.
The puzzles are of medium complexity.
You will spend hours of brain challenging activity finding each city name.
Bonus tip – check off each city that you have ever visited or if you know someone from that place.
 Huge print easy-to-read puzzles
Giant full-page puzzles
Four pages per puzzle
Full-page word list
Full page grid
2 full-page solutions
24 city words to find in each puzzle